Camping La Vallée
THE ESSENTIAL SITES OF NORMANDY
Mont-Saint-Michel has the particularity of being built on a rocky islet, surrounded by a magnificent bay, the scene of the highest tides in continental Europe. The Mount and its bay are listed as a UNESCO World Heritage Site. Etretat is a romantic open theater on the Channel which has inspired the most illustrious artists. A few moments on the spot are enough to understand why… Discover without delay the most beautiful sites of Normandy
VISIT MONT SAINT MICHEL
Placed in the heart of the elements, between land and sea, the Mont-Saint-Michel looks like a triangle of stone rising towards the sky. This sacred mount of Christendom has aroused admiration for a century. For over a thousand years, pilgrims and tourists have flocked to visit Mont-Saint-Michel because they are fascinated by its history and its abbey.
Mont-Saint-Michel is an architectural wonder surrounded by a magnificent bay. It is one of the most visited sites in France, for its history and its legends. Since the 1980s, the mountain has been considered by UNESCO as a world heritage . Located in Normandy , it is particularly known for its high tides. A tide calendar is also available on the site and allows you not to miss this phenomenon which turns the mountain into a real island.
WHAT TO SEE AT MONT SAINT MICHEL?
The Mont-Saint-Michel is accessible by a footbridge and opens onto a main street which houses museums and shops. At the end of the ascent, we then discover the Abbey consecrated to Saint Michael. This building is open every day. Tours are free or can be organised with a guide. The museums that can be visited at Mont-Saint-Michel are the Archéoscope, the Historical Museum, the Museum of Sea and Ecology and the Tiphaine home, home of Bertrand Duguesclin. Tickets are available at the entrance of each museum.
WHAT TO DO IN THE BAY OF MONT SAINT MICHEL?
Mont-Saint-Michel and its bay form a vast space in which it is possible to practice many activities. Sports enthusiasts, passionated historians or food lovers can find activities to their liking. It is possible to go canoeing and beach yachting all along the bay. Boat enthusiasts, on the other hand, can experience the maneuvers on historic sailing ships such as the Black Lily. When there is no tide, it is a good time for shore fishing enthusiasts.
For people who don't just want to visit Mont Saint-Michel on land, it can also be visited by small plane or helicopter, offering the opportunity to experience a splendid view from the sky .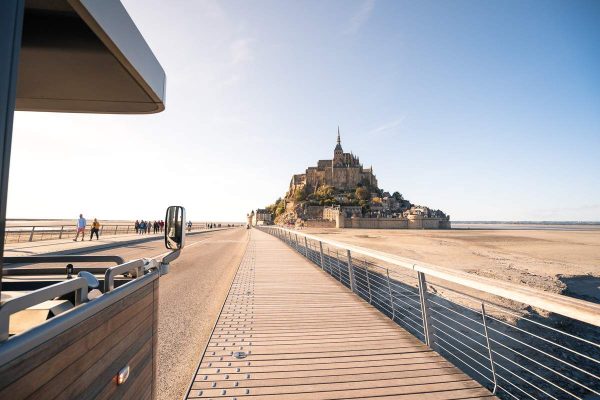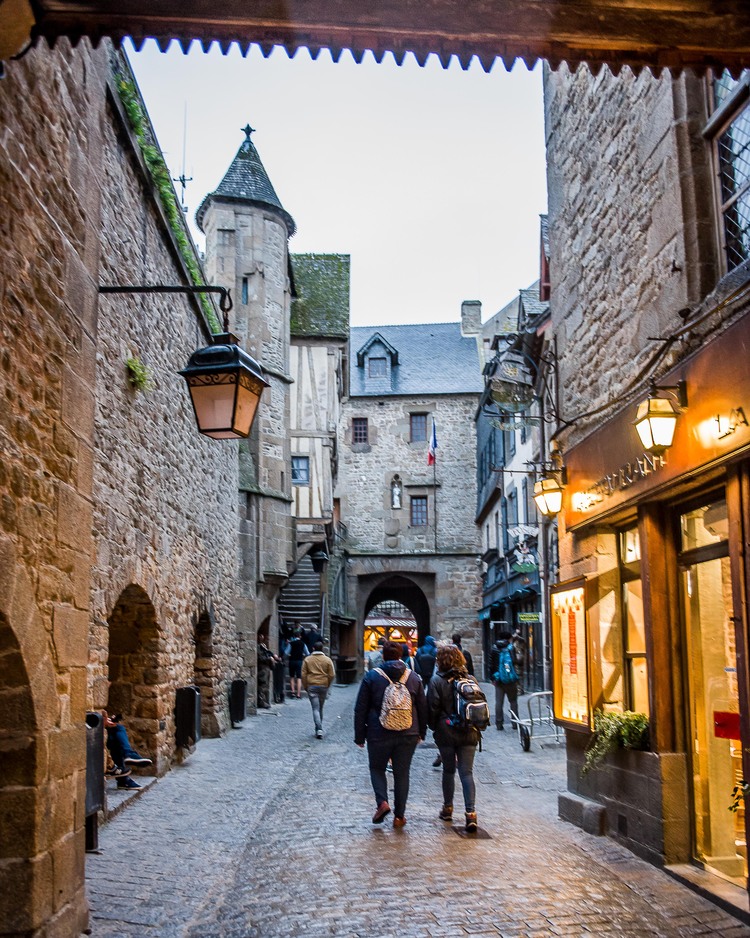 VISIT ETRETAT
Admire the cliffs of Etretat, a geological curiosity and a must-see tourist site in Normandy. Etretat and its cliffs are located only 75 km from La Vallée d'Houlgate campsite.
THE TOWN OF ÉTRETAT ON THE MAP
Étretat is a small town of 4.07 km² in the Seine-Maritime department in Normandy. The town acquired its fame in favor of two main geographical advantages. First, it is located in a coastal area: that of Alabaster on the Channel coast, a two-hour drive from Paris. Secondly, it is rich in its chalky limestone cliffs. The cliffs of Étretat are very famous. An ideal seaside resort for the whole family awaits you for unforgettable moments during your holidays. Let's explore the cliffs of Etretat a bit so that you can organise your holidays accordingly.
WHY VISIT THE ÉTRETAT CLIFFS?
Just for your pleasure, take a guided tour of the Cliffs of Étretat while you savor their fascinating history. You will discover the marine golf of Étretat suspended above these cliffs with a breathtaking esplanade. The latter represents a major challenge for amateurs or professional golfers. Access the beach of this dream corner through a natural tunnel. Here you have a good opportunity to enrich your photo album with many original views.
Do not hesitate to explore the splendor of these immense, almost immaculate cliffs. The fauna and vegetation found in this dream environment will also surprise you. The radiance of the sun and the sea wind combine in summer to allow various activities such as swimming or sunbathing. If you are an artist like the painters Gustave Courbet, Eugène Boudin, or the author of Arsène Lupine's famous adventure, come and find inspiration in this extraordinary landscape.
Visiting the cliffs of Etretat during the summer holidays is the ideal choice to fill up with beautiful memories.