Camping La Vallée
DISCOVER HOULGATE
Houlgate is a delightful, lively seaside resort with a rich historic and architectural heritage
A WHOLE HOST OF ACTIVITIES AND CULTURAL EVENTS ARE AVAILABLE IN THE TOWN
The tourism and sporting facilities will keep the whole family happy: Tourist Office open all year round, beach facilities, children's clubs, 18 hole golf course, tennis, riding, climbing, mini-golf, hiking, kitesurfing, sailing, and many other water sports are available in this resort which has received the 'France Station Nautique' accreditation.
The lively atmosphere of the resort is enhanced by Houlgate's shopping streets and by the market, which takes place on Thursdays in the 19th century covered market building. You can shop and know all the while that the beach is just a stone's throw away.
A varied programme of festivals and culture: including cinema, library open to all with organised cultural events, free international light music or classical music concerts, literary and theatre festivals, photo rally for children and adults, treasure hunt, nature workshops, Regional Day, Festival of European Cinema, conferences, Heritage days and 'Houlgate Plein Vent' (a festival dedicated to wind-based sports activities).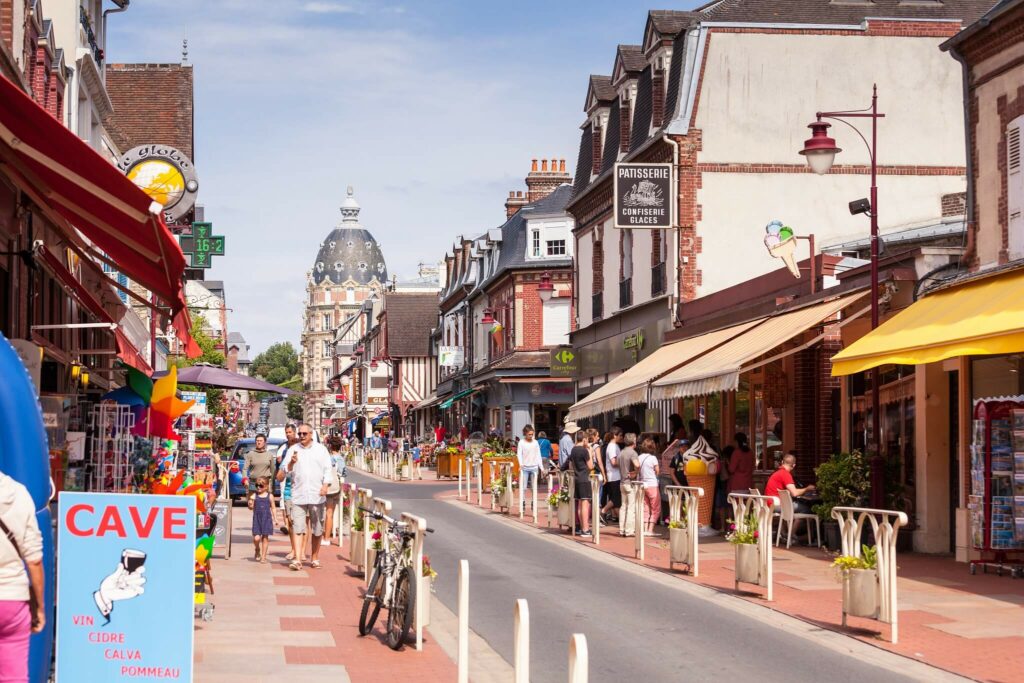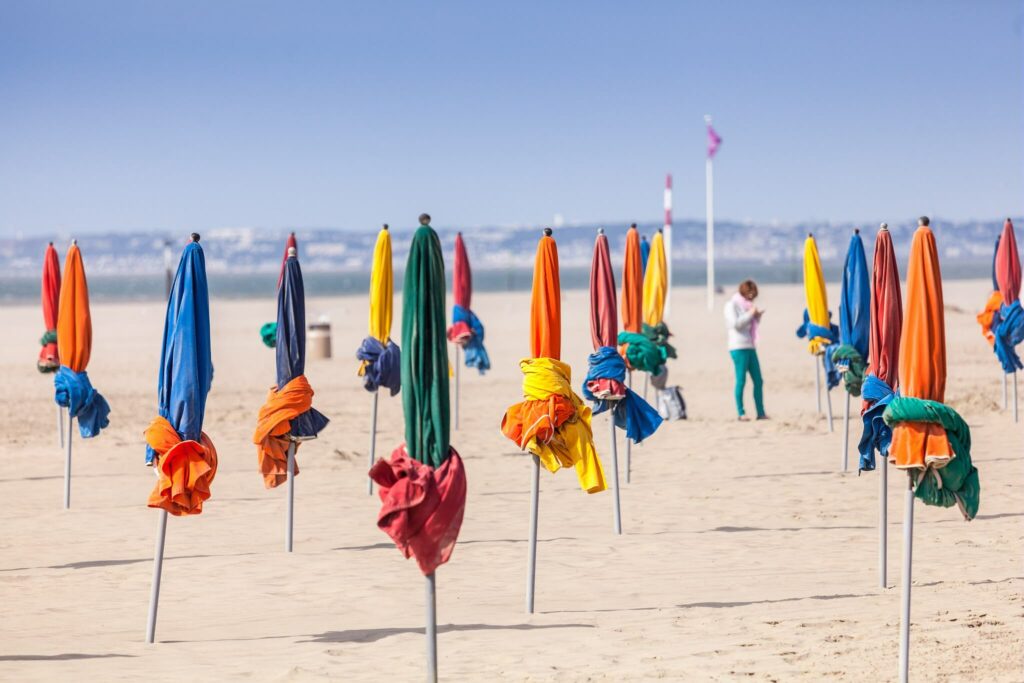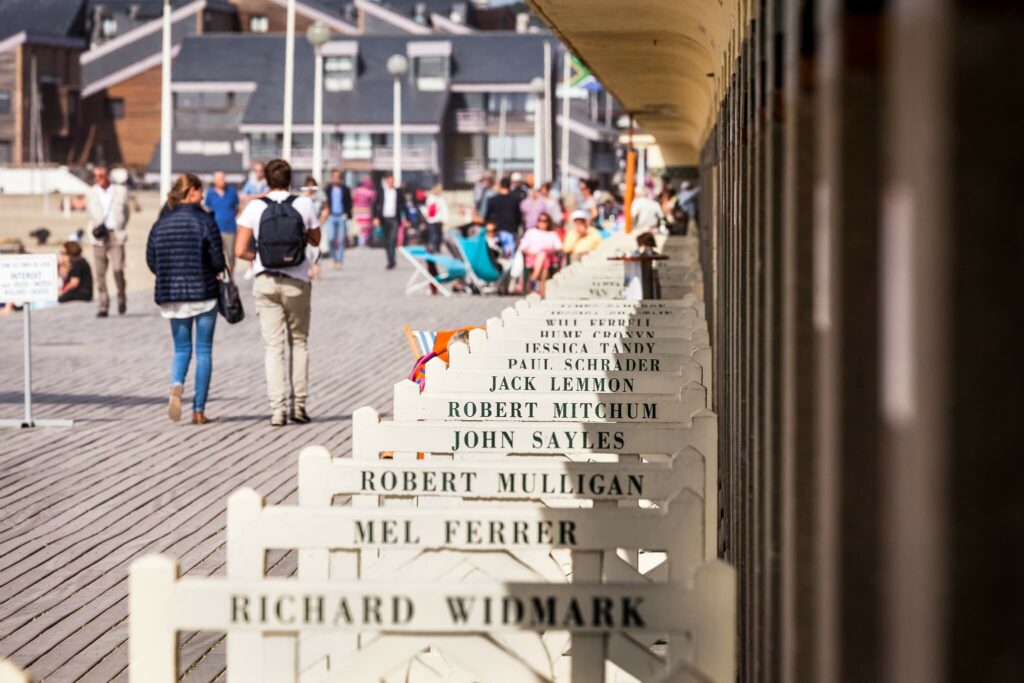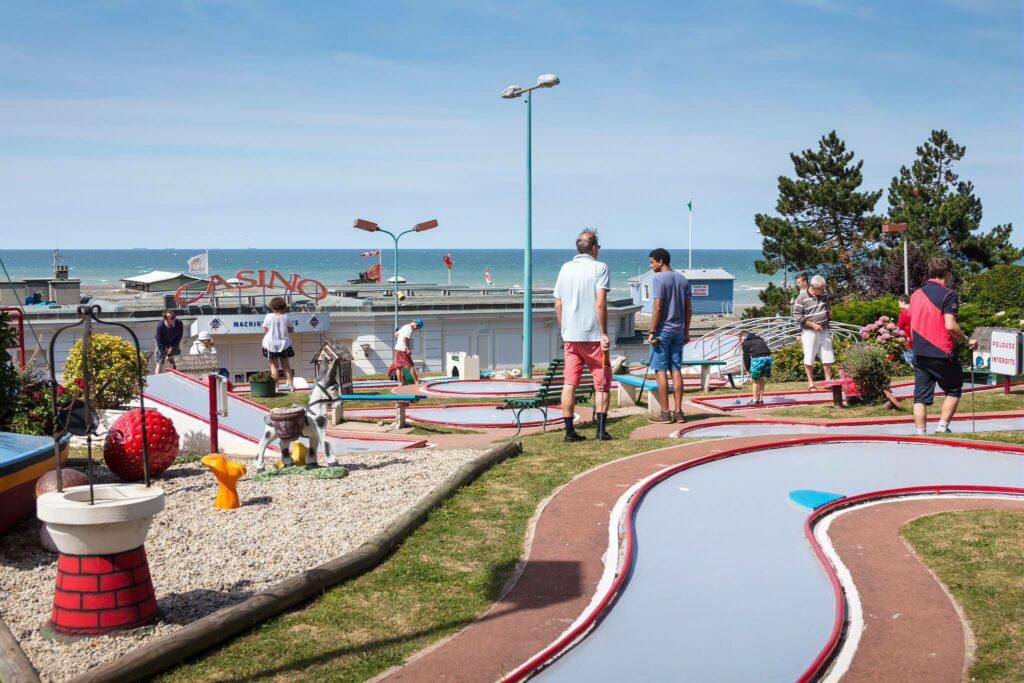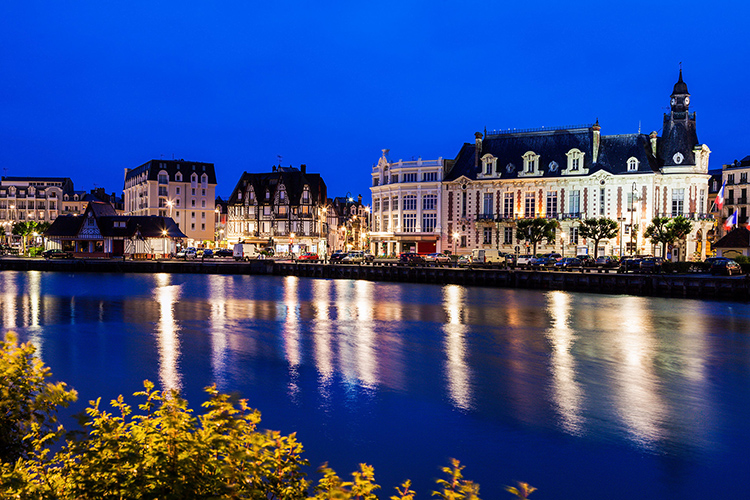 A MIX OF LAVISH 19TH CENTURY VILLAS, A MEDIEVAL PAST AND UNSPOILT COUNTRYSIDE
The unique wealth of architecture is the result of such a well-preserved seaside resort heritage, and this is highlighted on guided tours.
Its medieval past is evident in 'La Cascade', 'La maison des Pêcheurs', 'Le Moulin Landry' and 'La colonne Guillaume le Conquérant', etc. Its seaside resort heritage stands out. The 300 preserved villas, two old major hotels and the casino are fine examples of this. St-Aubin church and the 'le temple protestant' (Protestant church) show how the two religions have lived side-by-side for over 150 years.
All this is available in a unique, natural environment : hiking paths and breathtaking panoramic views surround the resort and, of course, the Falaises des Vaches Noires cliffs (a classified archaeological and environmental site http://www.paleospace-villers.fr ) are such an outstanding feature to the landscape that they give the resort international acclaim !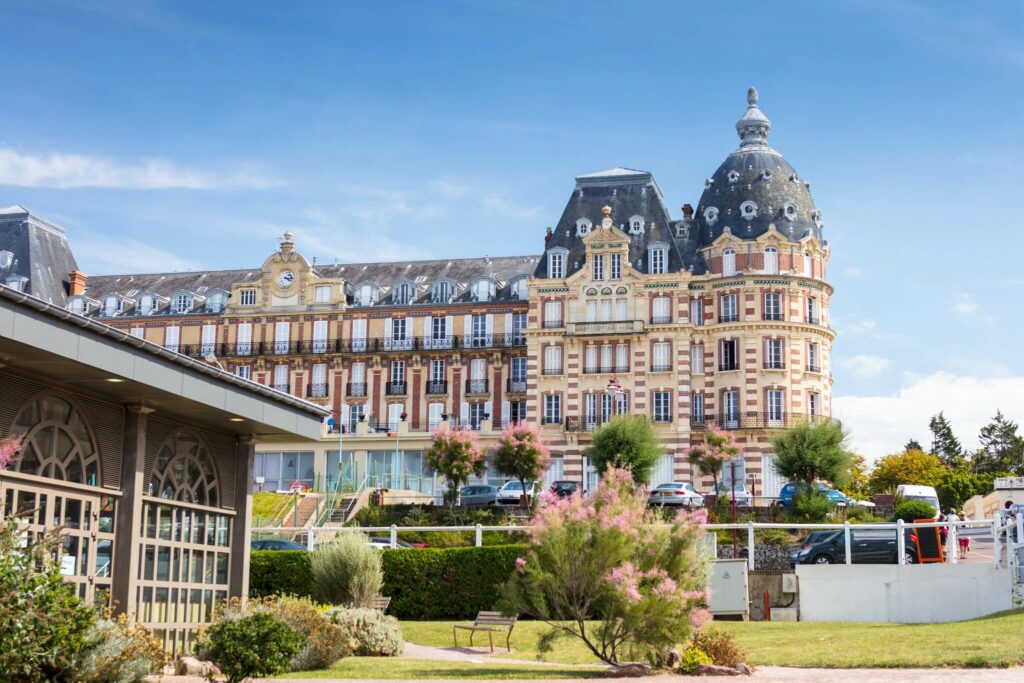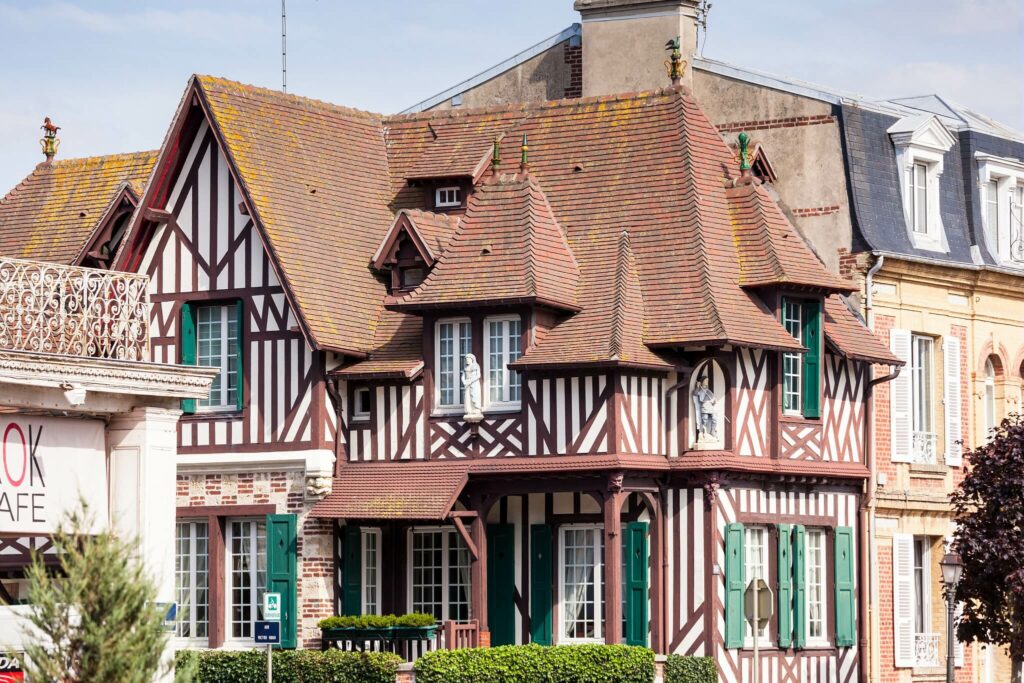 HISTORICAL BACKGROUND
Back in the 11th century, nestled in the valley of the river Drochon, a small village of fisherman and farmers were busy raising their cattle on the many meadows in Beuzeval – a commune which grew into the new town of 'Houlgate' 800 years later.
In about 1850, Beuzeval (located on the left bank of the river Drochon) quickly became Beuzeval-les-Bains for a small group of guests who enjoyed sea bathing. The first 'Société Civile Immobilière' de Beuzeval wanted to build a seaside resort that lived up to that name, and, due to a lack of space, bought some land on the right bank of the river Drochon, near the 'Vaches Noires' cliffs in a place called 'Houlgate'…and that is the name which stuck. A major hotel was built, then a casino and a bath house. As a result, 'Beuzeval-Houlgate' was able to welcome a rich clientèle, who went on to have over 500 villas built on both sides of the river Drochon. During this time Beuzeval-les-Bains, which was welcoming a protestant clientèle, also built its own casino and bath house and enlarged its modest family guesthouse into a major hotel. So, there are 2 resorts in the same commune built on 2 different models – one resort originates from a farming village, and the new resort was conceived completely from scratch.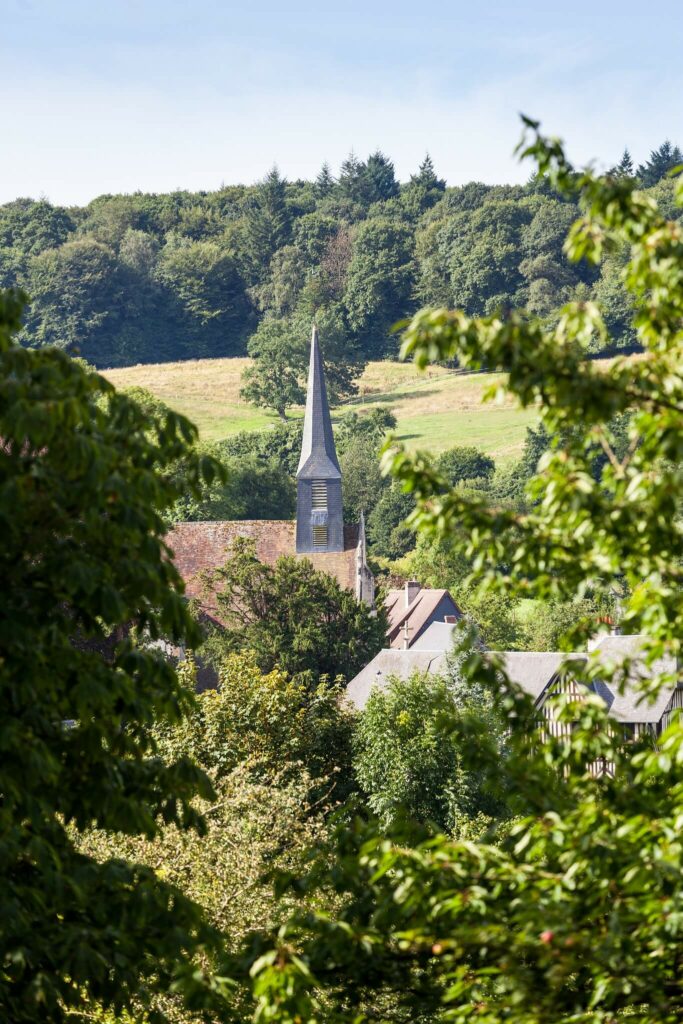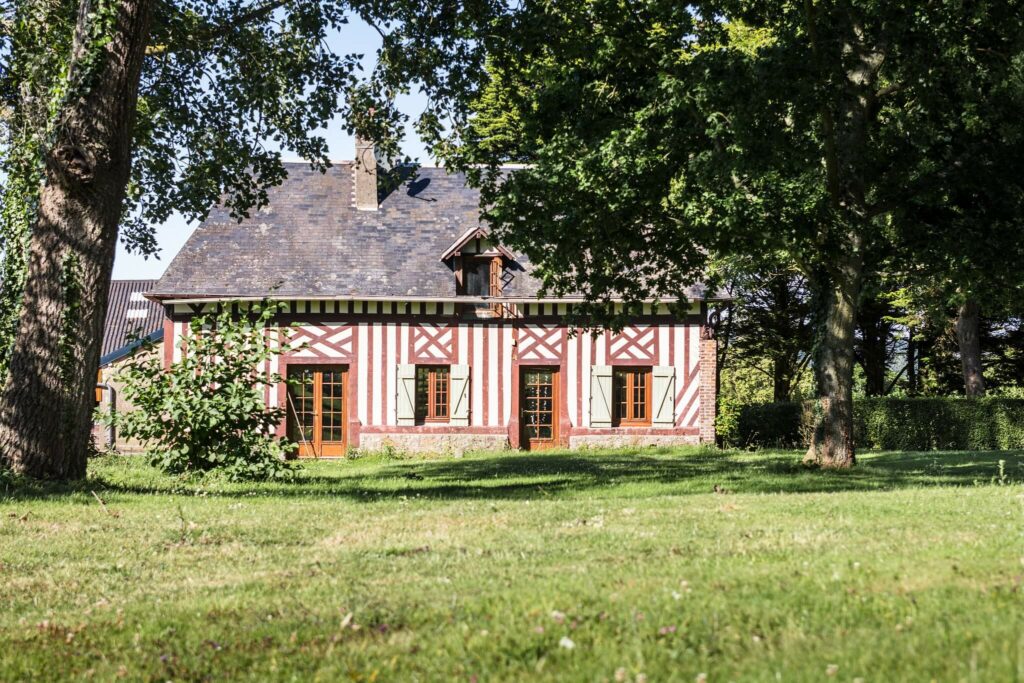 BACKGROUND ON HERITAGE
Houlgate, 'the pearl of La Côte Fleurie'
Houlgate has been called 'the pearl of La Côte Fleurie' for over 100 years, which is not surprising as it has maintained its Belle Epoque charm with 300 villas of an eclectic and neo-Norman style built in the mid to late 19th century. The resort is therefore known as the 'standard for seaside architecture'
The wealth of heritage is such that you can choose from several differently themed guided tours. You can enjoy journeying through different periods and countries by studying the different façades. This is the principle behind so-called 'eclectic' architecture where every style is represented.
Houlgate has an additional 'impressive' special attraction – 'Les Falaises des Vaches Noires' cliffs, which extend over 6 km and reach 100 metres in height. This site of outstanding scientific and scenic importance is a special place for walkers, scientists and fossil hunting enthusiasts (palaeontology tours).
The cliffs are covered in vegetation characteristic of temperate regions, such as thorny shrubs or sea buckthorn, and is home to a resident fauna that can be seen throughout the year, including black-headed gulls and a variety of mammals.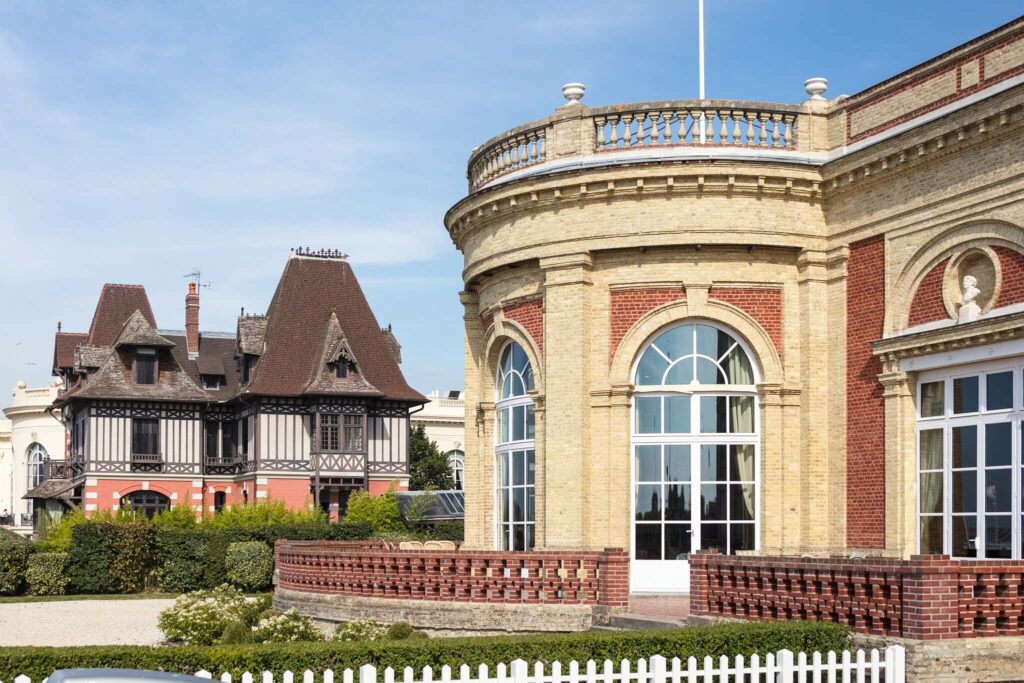 DISCOVER ALSO LANDING BEACHES AND MEMORIALS....